Hello all,
Well I've had a made few months of card making, present buying and wrapping and only just finished a special Christmas present in time for the big day. I'm now on holiday so can finally indulge in a bit of my own stitching!
In total, I've stitched (so far) this year
352.5 hours!
This is a bit more than last year, so it definitely shows how much I'm stitching even if not blogging!
I'll begin with showing you my latest new start (an finish)!
This is my gorgeous Nephew Jude and I decided earlier this year to stitch him an advent calendar using a design from World of Cross Stitching magazine, modifying the word 'Noel' to read 'Jude'. I then added pockets for the chocolates, the fabric is silver lurex 14 count aida. I'm really pleased with the outcome and am going to send the photos to the magazine.
Another Christmas one I finished at the end of August, Rudolph: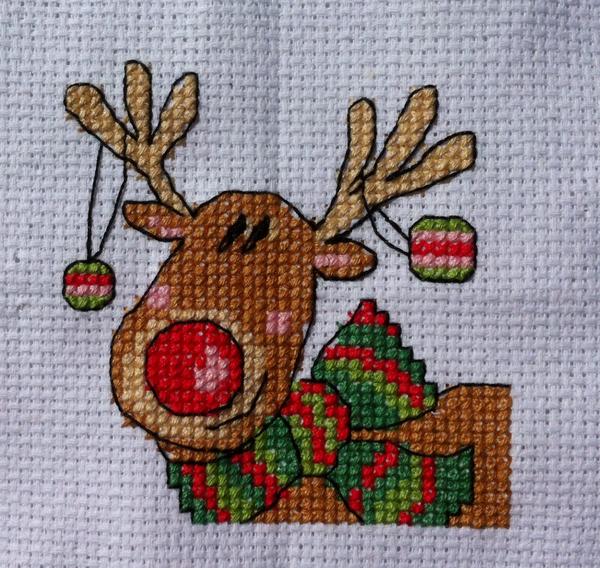 Now I'll move onto my ambitious goals for this year!
1. Finish
County Durham -
COMPLETE
I was really pleased to have completed this one as it'd been a WIP for a while.
2.
Finish
Samantha -
INCOMPLETE
Before
After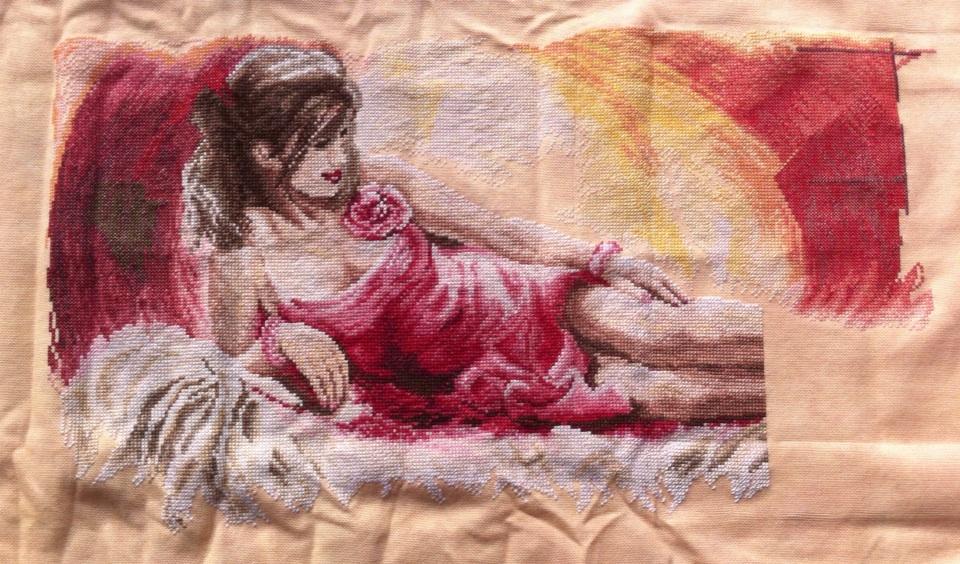 I'm a little disappointed to have not done more on this one, but I fully intend to finish it by April 15th since that is the 10 year anniversary of me loosing my Nanna. I used her inheritance to buy this kit and I think it's a nice way to remember her since she taught me to stitch.
3. Finish my Secret Project -
COMPLETE
As you've seen, I did finish this and it was called The History of HAED. I'm still really proud of being involved in it!
4. Finish page 1 of Beacon Ridge -
COMPLETE
I actually picked this one up a couple of days ago so I've actually done a bit more on it, I'll post more update pics soon!
5. Start and finish page 2 of Snowy Friends -
INCOMPLETE
Although I didn;t finish page 2, I'm really happy with how much I've done since is confetti laden on 25 count.
6. Finish page 1 of Lady Bug Love -
INCOMPLETE
Again, I'm disappointed that I hadn't made as much progress as I'd wanted to do. There's a lot of confetti in there even though it doesn't look like it and lots of shading but it will be worth it when finished!
7. Get half way on Lakeside Village
-
INCOMPLETE
This was a case of being over-ambitious, but I have made some solid progress on it this year!
8. Start and get half way on Frederick the Literate
-
INCOMPLETE
Again far too ambitious and hardly did any of it I'm afraid! Oh well I hope to do a lot more on this is 2015.

Well, that's my review of 2014, I'll post tomorrow about my aims and new starts for 2015.

Happy New Year all my Stitchy Bloggers! xxx