Hello all - Hope you've had a very Merry Christmas and looking forward to a happy, prosperous and stitchy New Year!
I've had a brilliant year cross stitching wise, a couple of finishes and one too many starts as well!
My year in numbers:
8 current WIPs
2 finishes
6 starts
456.5 hours stitched
12 WIPs at the end of the Year!
That last figure is more than 100 hours more than 2014 so I've been very busy! I'm hoping to do around 500 this year linked in with my 10 hour rotation - 50 rotations- but my goals and targets will be in my New Year blog!
So here goes, all the pretty pictures and last year's goal (if applicable) and a before and after picture.
I'll start with my finishes and my proudest Achievement.
Samantha - GOAL - finish by the end of March -
COMPLETE
I was so proud of finishing this since it was one of my longest WIPs and did for the 10 year anniversary of my Nanna's memory. It was also featured in the World of Cross Stitching magazine.
Samantha by Lanarte
STARTED: May 2006
FINISHED: 24/03/15
28 Count Peach Linen, 2 over 2
Approximately 170 hours (146.5 timed hours plus estimate)
Before: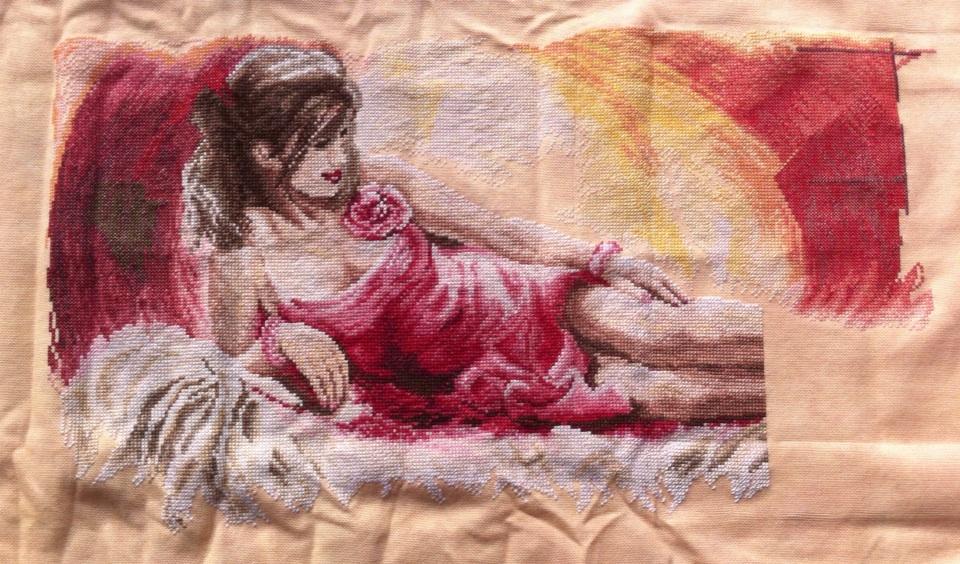 After 61.5 hours:


Strawberry Ice - No goal as this was started and finished in 2015
I decided to have a new start for the Great British Bake Off as I'm a huge fan and managed to finish it for the finale!
Strawberry Ice by Michael Powell
STARTED:
FINISHED:
14 count cream aida, 2 over 2 & back stitch
19 hours work
Frogs Kissing - GOAL - Start and Finish -

INCOMPLETE
Unfortunately this was a design that I initially struggled with and it's not got finished this year, however it will get finished, hopefully next year.
Here's what it looks like so far after 147 hours work:
Moving onto my new starts for this year:
Playtime Kitten
This one was from the World of Cross Stitching magazine and I've really enjoyed using the hand dyed fabric, it's got a hint of sparkle in it too!
15 hours work:
Sammy Squirrel
This was a design I fell in love with from Gecko Rouge which was the first of two SALs this year.
No start picture, but this is what she looks like now:
As you can see I completed page 2 on the last rotation! So happy I made this much progress.
Beverley's Owl
Another Gecko Rouge Design, the SAL comes to an end in February, but I'm happy to make some decent progress on her.
23.5 hours work:
Love Spring
My final new start was actually my Christmas Day new start since my hubby bought me
Love Spring
which is in the same series of
Love Tree
both by Bothy Threads. I'm really enjoying this and have made loads of progress in such a short space of time!
10 hours work:
The tree branches are actually in metallic, but it doesn't show up too well here. What do you think?
Now moving onto my existing WIPs.
Snowy Friends - GOAL Finish Page 2 -

INCOMPLETE
This target just wasn't going to happen with all my SALs going on, but I am happy to have made some progress. Apologies for the quality of the before picture, it really shows the difference on my phones!
Before:
After: 11.5 hours
Beacon Ridge - GOAL Finish Page 2 -

INCOMPLETE
I'm so close to finishing page 2, it's definitely going to be finished next year. So excited about page 3 too - there's a bit of the lighthouse on there!
Before:
After: 26 hours
Ladybug Love - GOAL Finish Page 1 -

INCOMPLETE
Once again a failed task due to the unplanned new starts. However, I'm pleased with the progress.
Before:
After: 10 hours
I love how the detail is coming out and you can see where the lips are going to be and the wings are looking beautiful!
Lakeside Village - GOAL Get Halfway -

INCOMPLETE
I've actually finished over a quarter of this beautiful design so shouldn't feel so disheartened on this large design - looking forward to this appearing in my rotation again in the New Year!
After: 12 hours
Frederick the Literate - GOAL 20 Hours Stitching -

INCOMPLETE
Almost did this with 12 1/2 hours stitching complete, but the progress is pretty good!
Before:
After: 11.5 hours
Greek Steps - GOAL Finish Page 1 -

INCOMPLETE
I've been stitching this one over the past week and a bit and nearly finished page 1 as you can see! The building is almost appearing now!
Before:
After: 24 hours
Loads of progress, really pleased, maybe a finish next year???
Happy New Year and Happy Stitching all! xxx